Lund Boats for Sale in Upstate New York:
Lund Fishing Boats & Sport Boats for Sale
---
Lund is a company that's widely known in Upstate NY and other states for producing fishing boats using aluminum and fiberglass. At Fogarty's Lake Flower Marina, we offer a range of Lund boats for sale that are constructed with advanced materials for safety and performance. The manufacturer incorporates high quality closed cell foam into the boats to provide flotation even if the hull is severely damaged. This assures you a safe return home under any circumstance. Additionally, our Lund boats for sale in Upstate NY are designed without inner ribs, except for larger models, which enhances their comfort, convenience, and ease of maintenance.
---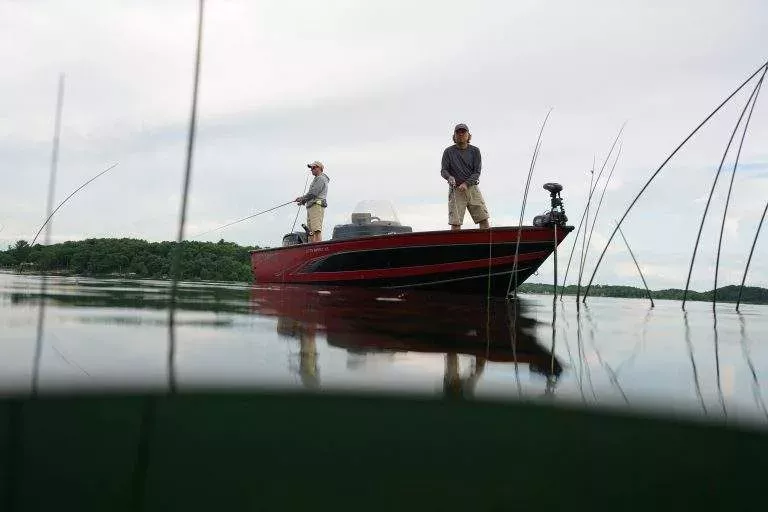 Boat Dealers That Prioritize Customer Satisfaction
As reliable Lund boat dealers in Upstate NY, we possess extensive knowledge about each brand and its distinctive attributes, allowing us to offer well informed advice to our clients. For instance, we highly recommend the Lund 1875 Crossover XS, a versatile fish and ski boat with an Integrated Power Strake (IPS) with a reverse chine, making it perfect for water sports in Upstate NY. Another Lund boat for sale that we've tested and highly recommend is the Lund 1775 Renegade, which stands out for its remarkable fishing features among all fishing boats in Upstate NY.
Customize Your Boat Features to Reflect Your Personal Style
Investing in our new Lund boat is like owning a blank canvas, allowing our Upstate NY clients to incorporate their individual preferences and unleash their creativity. Here at Fogarty's Lake Flower Marina, our new Lund boats have enhanced features that make boating in Upstate NY more thrilling. If you need help determining which new Lund boat to add to your collection, our expert Lund boat dealers will guide you in the right direction and facilitate your decision making process.
High Performance Lund Boats in Upstate NY
Purchasing a dependable preowned Lund boat can be reassuring since any mechanical issues would've been addressed by our Lund boat dealers during the initial years of maintenance. Choosing a preowned Lund boat from our selection gives our Upstate NY customers a wide variety of options. Our preowned Lund boats range from a few months to several years old, providing our Upstate NY clients with a broad selection of choices.